From 2014 until 2019, we supported various educational & health organisations in carrying out big projects (see below), sponsoring some of their events or handing over much needed donations-in-kind. We've also partnered with local NGOs and offered dental and health screenings or help for their own ongoing fundraising activities.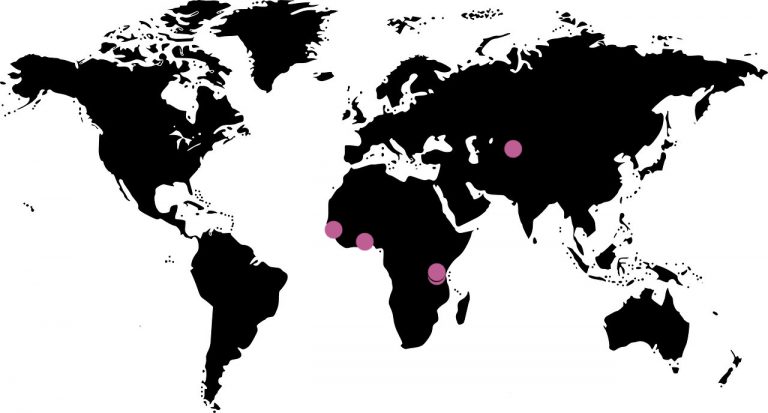 Dry Toilets & Hygiene Training for over 300 School Children in Ghana
In 2018/2019, we supported the organization "Non-Water Sanitation" and the Student Union Mafi Adiekpe and their project to establish sustainable sanitary facilities in a school in a rural community in the Volta Region of Ghana.
We successfully collected donations that were used to provide access to sanitary facilities for 300 students and to raise awareness of hygiene and the importance of toilets. The aim is that through that, the absenteeism rate (due to illness or menstruation) can be decreased and the chance for a good education can be increased. The youth and adults of the community were also empowered by including them in the process.
Establishment of a Life-Saving Blood Donation Center in Guinea Bissau
As part of the efforts to make complex surgeries possible in the clinic of Madrugada in Bissau, the capital of Guinea Bissau, a different life supported the health facility in 2017/2018 with a donation to set up a live-saving blood donation & transfusion centre. These included a blood storage unite, blood donation kits, grouping and cross-matching kits, HIV test kits and also Hepatitis B and C test kits.
With that, blood can now be donated, tests for blood types and also for HIV, Hepatitis B and C, Syphilis and Malaria can be carried out. The "good blood" can then be stored for the purpose of using it later in theatre.
A boarding school as new safety for orphans in Tanzania
After more than 60 children were being kept in an orphanage bearing unbelievable circumstances, most of them had been placed in a safe environment again by "Kilimanjaro Children's Fund", an organisation a different life worked with already in 2014.
In 2016/2017, we supported the NGO with a donation to cover the annual school fees of 7 children, so they could stay in a boarding school that offers high-quality education.
A shelter for teenage orphans in Kyrgyzstan
The Farm in Rotfront, Kyrgyzstan gives shelter to and employs teenage orphans who do not have a home anymore after being forced to leave the orphanages. Especially the older orphans are being taught how to manage the farm to ensure sustainability of the project.
In 2015/2016 supported the developments of the farm. The farmhouse roof was renovated, a summer barn was built for the farm, a wall was set up around the compound and livestock needed and a milking machine were provided, amongst other things.
Developments of an orphanage in Tanzania
a different life raised donations for furnishing and extending the new building of the "Mabogini Orphanage" in Mabogini, Tanzania. This centre aimed at providing shelter and a home for about 50 orphans.
The money donated was used to purchase bunk beds, mattresses bed sheets and pillows and to construct an outside pavilion as shaded sitting area.